Anonymous, «Armerías de España», 124 double pages, title in the page 9, provenance Duke of Osuna and Infantado, 1800.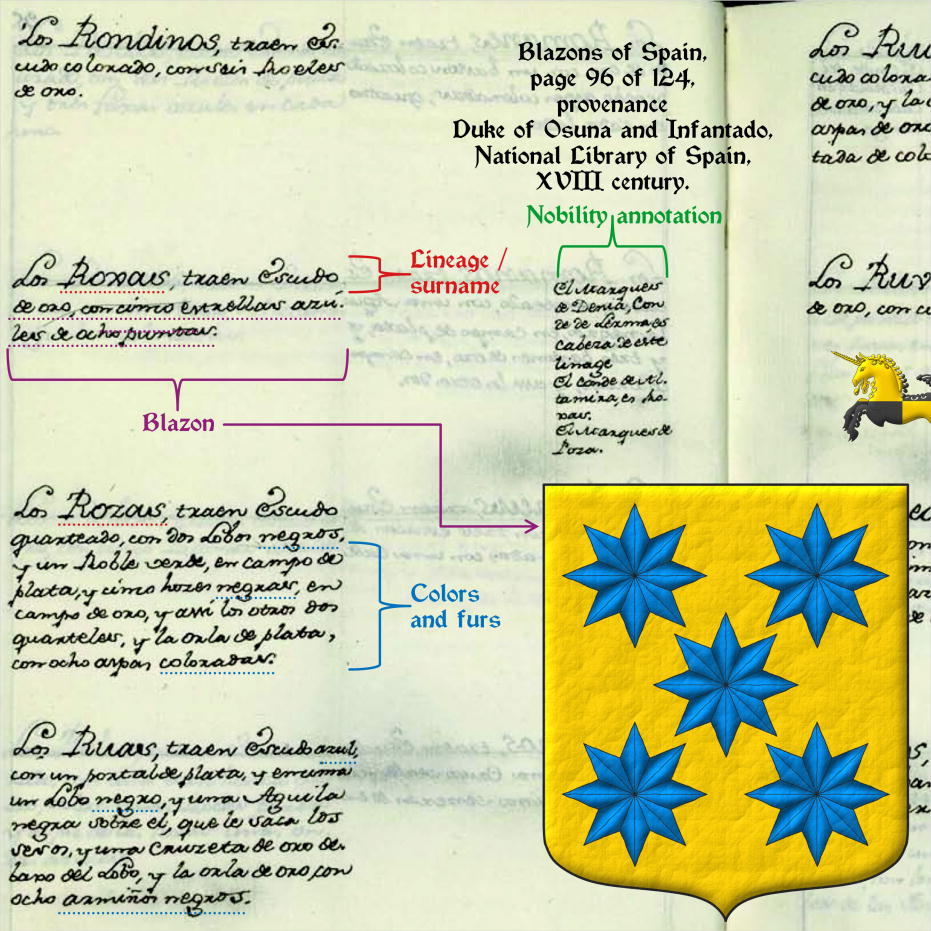 Content
The book has no index and its content, written by hand, is as follows:
Pages 1 through 8 are blank.
On page 9, title, the letter A begins and surnames Abarca, Abendaño, Abeo, Ablitas and Abrego in large handwritten and the blazon in small handwritten (except for the end of the book on page 123, the unknown author seems to write more about surnames than about lineages).
On page 10, the surnames with the letter A continue and their blazon both in small handwritten.
On page 23, the letter B begins, its surnames and their blazons, for example, the Barrasas, in the page 25, «

Or, six Lions proper, combatant

».
On page 30, the letter C begins, it is followed by the letter Z on page 42, 29 surnames with Z was written before the letter D and Cocas and Cuacas, with the letter C, are inserted inside the letter Z.
It follows in alphabetical order of surnames from page 46, where the letter D begins, to page 97 with the letter S, including in the S the surname Sánchez on page 99, as a lineage will be included at the end of the book, and it follows with the letter S until the page 104.
On page 105 the letter T begins, surname Tabixas, Taboadas, Tafuxes, ...
On page 109 jump from the letter T to the letter V, with the surnames Vacas, Vadillos,... and skipping the letter U.
On page 119, it returns from letter V to U, in an unordered manner and without including the title with the capital letter U.
On page 120, begins the letter X and also the letter Y.
On page 122, the letter Z and only 3 additional surnames with Z, recall that the majority of the surnames with Z were included after the letter C.
On page 123 he returns to the surname Sánchez by testimony of Pedro de Soto owner of the books of Armory of Spain of Andreas Heredia, King of Arms, and finally the unknown author copies the text for the surname Sánchez, those who were «

hijosdalgos, en Cangas de Gobadonga

» ~ Covadonga of Asturias and ends with a poem of 8 verses. Andreas Heredia, also known as Andrés Heredia, was King of Arms during the reign of Philip III of Spain, [Nieto y Cortadellas, R.; 1957a; Page 4]
Beginning on page 124 are blank.
---
Bibliographical reference of century XVIII.
Classification: Manuscript, In black and white and Castilian language.
Author: anonymous.
External links:
Internal resources: Osuna1800.ArmeriaEspaña.Manuscrito.pdf.