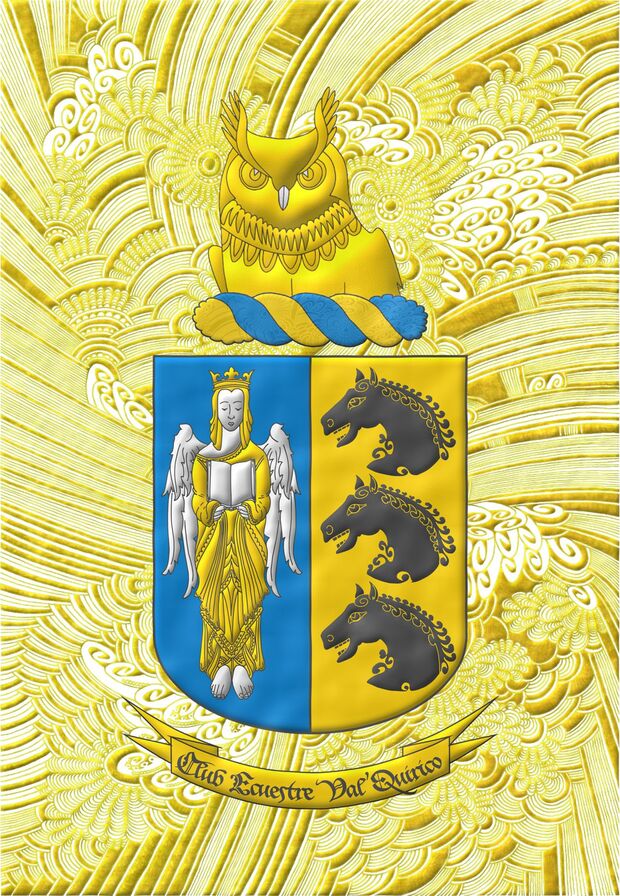 Party per pale: 1 Azure, an Angel Argent, crowned, crined and vested Or holding an open Book Argent; 2 Or, three Horse's heads Sable, couped, in pale. Crest: Upon a Wreath Or and Azur, an Owl's head couped at the shoulders Or and beaked Argent. Motto «Club Ecuestre Val'Quirico».
Watercolor finish over a Chinapieria Or.
---
Blazon keywords: Party per pale, Azure, One, Angel, Argent, Crowned, Crown, Crined, Vested, Or, Charged, Book, Open, Three, Head, Horse, Sable, Couped, In pale, Crest, Wreath, Owl, Nascent, Beaked and Motto (identification).
Style keywords: Watercolor, Illuminated, Rounded, Outlined in the field tincture and Outlined in sable.
Classification: Created, Socioeconomic and Chinapieria.
Bearer: Club Ecuestre Val'Quirico.