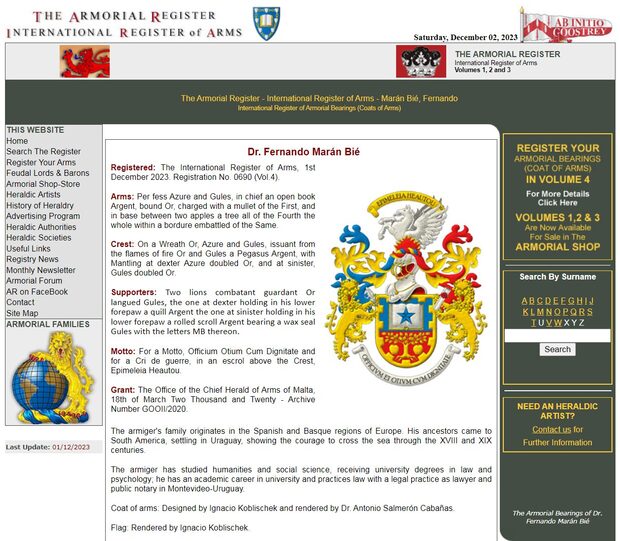 Registered by The International Register of Arms, 1st of December of 2022, Registration number 0690, Volume 4.
In Spanish heraldry, there are three terms for supporters: «sostenes» for objects or plants, «tenantes» for human figures, and «soportes» for animal forms. The following applies to sostenes, tenantes, and soportes. Unlike other heraldic traditions such as English heraldry, in Spanish heraldry there are no rules for the use of supporters; their use is at the armiger's discretion, without specific restrictions. Supporters are not reserved only for nobility; their use is free for all.
In the words of [
Cadenas y Vicent, V. de; 1975
; page 173] «
there is no rule that determines the use of tenantes, soportes, and sostenes
».
---
Categories: Armorial roll, Party per fess, Azure, One, Book, Open, Or, Leaved, Argent, Charged, Mullet, Gules, Tree, Eradicated, Between, Two, Apple, Diminished bordure, Embattled, Crest, Helm, Fimbriated, Wreath, Mantling, Dexter, Sinister, Crest, Pegasus, Rampant, Nascent, Flame, Supporter (animal), Lion, Langued, Quill, Paw, Parchment, Rolled, Seal, Letter, Grito de guerra and Motto (motivation).
External link:
Root: The Armorial Register.