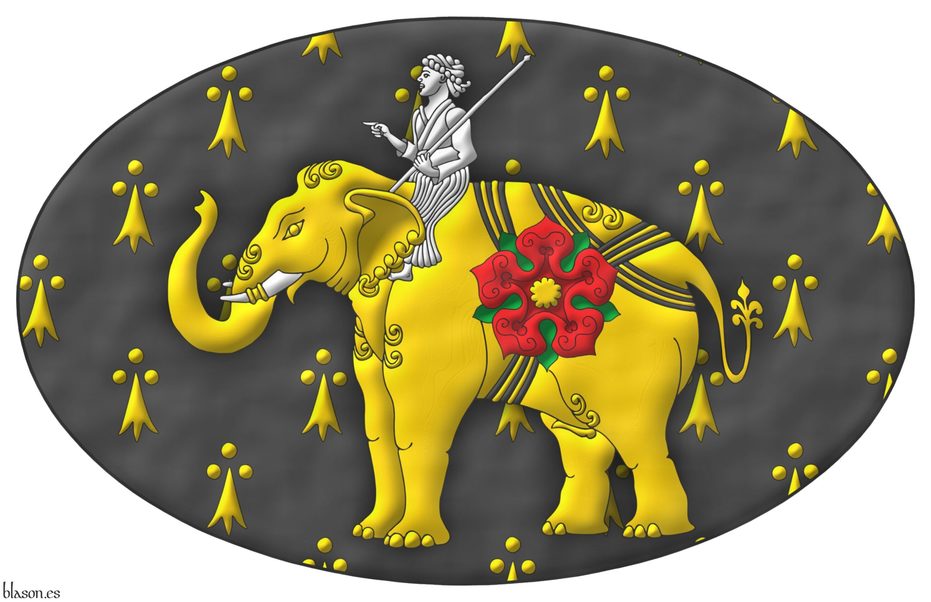 Upon an oval, pean an Indian elephant statant Or, armed Argent, strapped over the belly, hump and rump Sable, cottised Or, charged on his left flank with a rose Gules, barbed Vert, seeded Or; seated on his neck a mahout, in his sinister hand a stick in bend sinister Argent.
Watercolor finishing
---
Credits:
Kevin Derek Couling is the author of the English text of the blazon.
Antonio Salmerón y Cabañas is the author of the heraldic art.
Blazon keywords: Pean, Elephant, Statant, Or, Tusked, Sable, Bendy, Rose, Gules, Barbed, Vert, Seeded, Male figure, Sinister, Hand and In bend sinister.
Style keywords: Watercolor and Oval.
Classification: Badge and Personal.
Bearer: Juchter van Bergen Quast, Rudolf.