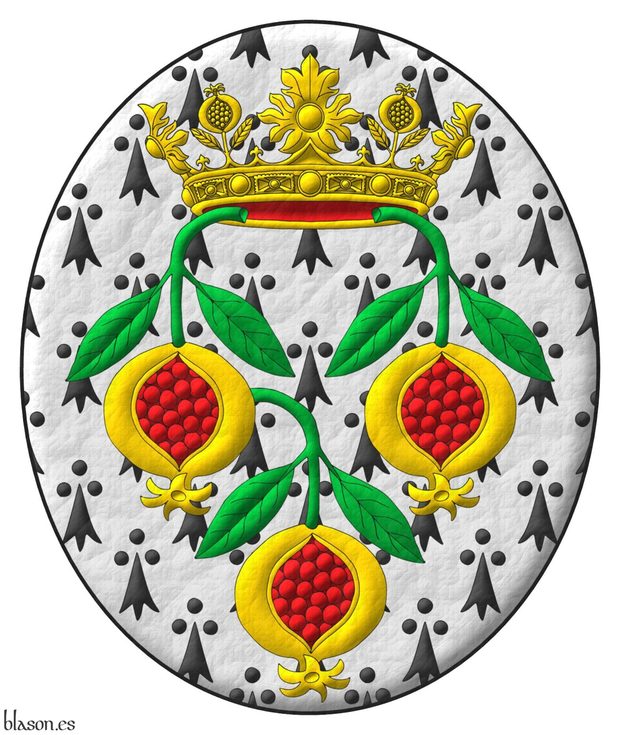 Ermine, three pomegranates inverted Or, seeded Gules, slipped and leaved Vert, ensigned with an open crown, alternating four rosettes of acanthus leaves, visible three, and four pomegranates Or, visible two, lined Gules.
Escudo de armiños, tres granadas ranversadas de oro, rajada de gules, talladas y hojadas de sinople, sumadas de una corona abierta, alternando cuatro rosetas de hojas de acanto, visibles tres, y cuatro granadas, visibles dos, todas de oro, forrada de gules.
Coat of arms emblazoned by me with an oval shape, illuminated, and with a leather finishing that seems watercolor.
---
Blazon keywords: Without divisions, Ermine, Three, Pomegranate, Reversed, Or, Seeded, Gules, Slipped, Leaved, Vert, On, One, Crown, Alternately, Four, Rosette of acanthus leaves, Visible, Two and Lined.
Style keywords: Outlined in sable, Oval, Illuminated and Leather.
Classification: Socioeconomic, Interpreted and Coat of arms.
Bearer: Granada, Soberana y Muy Noble Orden de la.