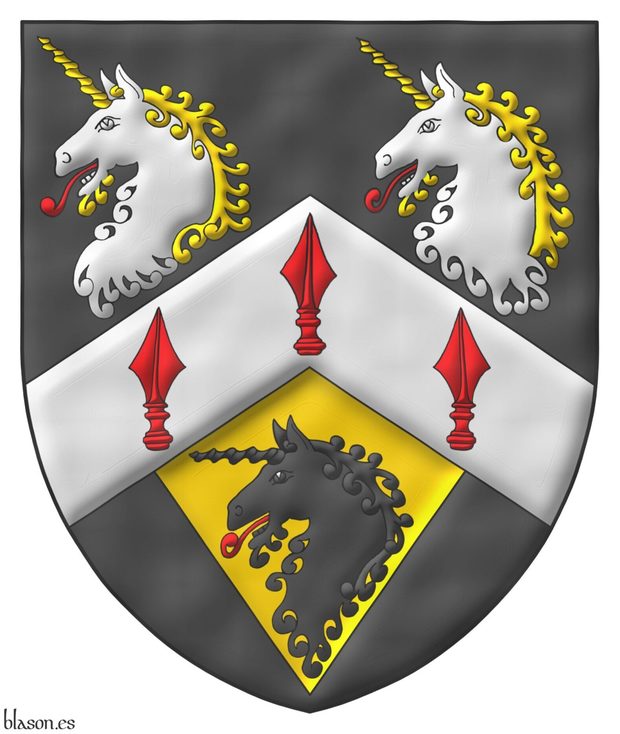 Sable, on a chevron Argent three spears' heads Gules, in chief two unicorns' heads erased Argent, horned and crined Or, langued Gules, in base on a pile of the last issuant from the chevron a unicorn head erased Sable, langued Gules.
Escudo de sable, un cabrio de plata con tres puntas de lanza de gules; en jefe, dos cabezas de unicornio arrancadas de plata, cabelladas y acornadas de oro, lampasadas de gules; en punta, una pila de oro, moviente del cabrio, cargada de una cabeza de unicornio de sable, lampasada de gules.
Illuminated and a watercolor finishing.
Note that it is a pile bacause it does not touch the border of the shield.
---
Blazon keywords: Sable, Chevron, Argent, Three, Spear's head, Gules, In chief, Two, Head, Unicorn, Eradicated, Crined, Horned, Or, Langued, In base, One and Pile.
Style keywords: Outlined in sable, Pointed, Illuminated and Watercolor.
Classification: Personal, Interpreted and Coat of arms.
Bearer: Wright, Charles F. M..