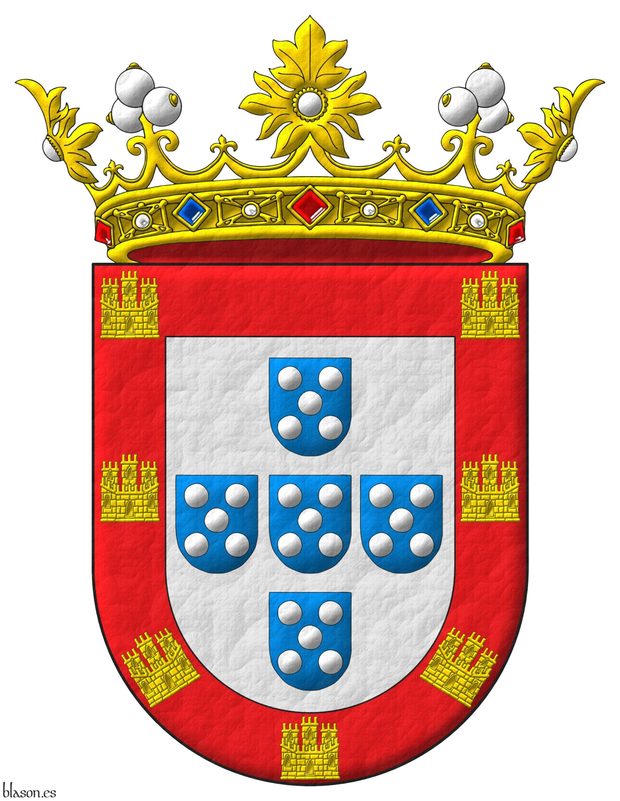 City of Ceuta, Spain, Africa, with a crown of Marquis
Argent, five escutcheons in cross Azure, each charged with five plates in saltire Argent; a bordure Gules, charged with seven castles triple-towered Or, 2, 2, 2, and 1. Crest: A crown of Marquis.
Escudo de plata, cinco escudetes en cruz de azur, cada uno cargado de cinco bezantes en sotuer de plata; una bordura de gules, cargada de siete castillos de oro, dos en jefe, una en cada flanco y tres en punta. Timbrado de una corona de marqués
Illuminated and a leather finishing.
Coat of arms of Ceuta from the coat of arms of Portugal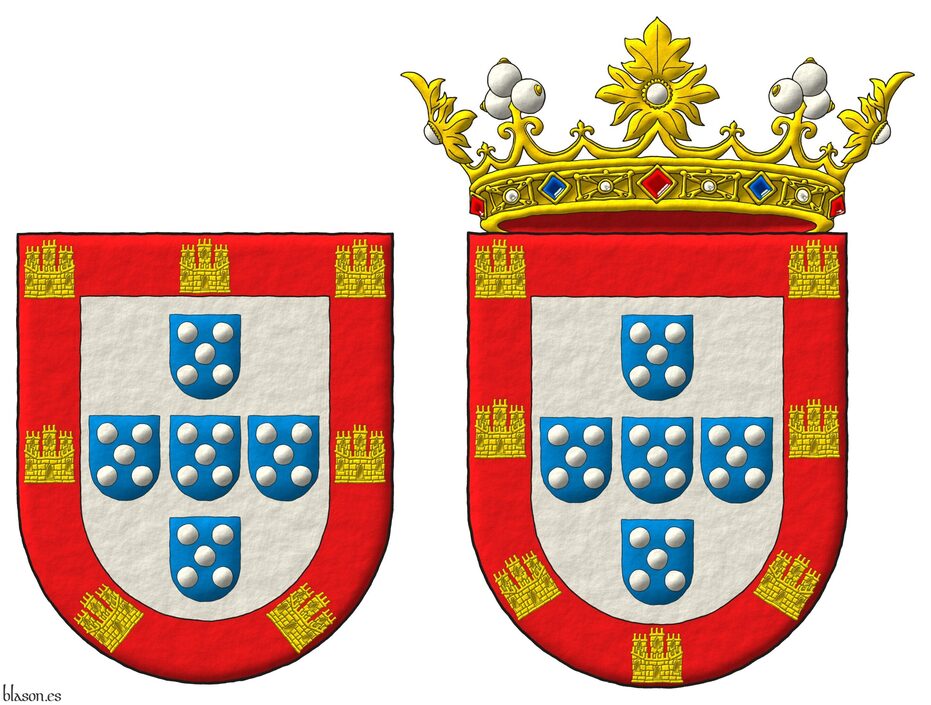 The Portuguese conquered Ceuta in the year 1415. This event represents an important step in the development of the Portuguese Empire in Africa. Then Ceuta received its arms from those of Portugal but with the castles in another order. In the image, the 1st coat of arms of Portugal, and the 2nd coat of arms of Ceuta.
---
Blazon keywords: Without divisions, Argent, Five, Escutcheon, In cross, Azure, Charged, Bezant and plate, Plate, In saltire, Bordure, Gules, Seven, Castle, Or, Two, In chief, One, In each flank, Three, In base, Crown of Marquis and Crown.
Style keywords: Leather, Outlined in sable, Illuminated and Semi-circular.
Classification: Civic, Interpreted and Kingdom of Spain.
Bearer: Ceuta.