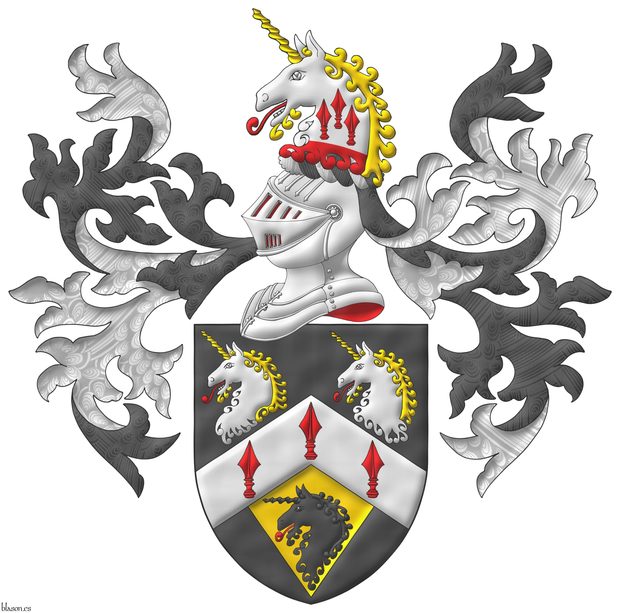 Sable, on a chevron Argent three spears' heads Gules, in chief two unicorns' heads erased Argent, horned and crined Or, langued Gules, in base on a pile of the last issuant from the chevron a unicorn head erased Sable, langued Gules. Crest: Upon a helm with a wreath Argent and Sable, a unicorn's head Argent, erased Gules, horned and crined Or, langued gules, charged upon the neck with three spears' heads cheveronwise Gules. Mantling: Sable doubled Argent.
Illuminated and a watercolor finishing, and the mantling and the wreath diapered with Chinapieria.
«An unicorn's head Argent, erased Gules» means that the unicorn's head are metal Argent, but the jagged edge of its base are gules.
---
Blazon keywords: Sable, Chevron, Argent, Three, Spear's head, Gules, In chief, Two, Head, Unicorn, Eradicated, Crined, Horned, Or, Langued, In base, One, Pile, Crest, Helm, Mantling, Wreath, Charged and Neck.
Style keywords: Outlined in sable, Pointed, Illuminated, Watercolor and Chinapieria.
Classification: Personal, Interpreted and Coat of arms.
Bearer: Wright, Charles F. M..