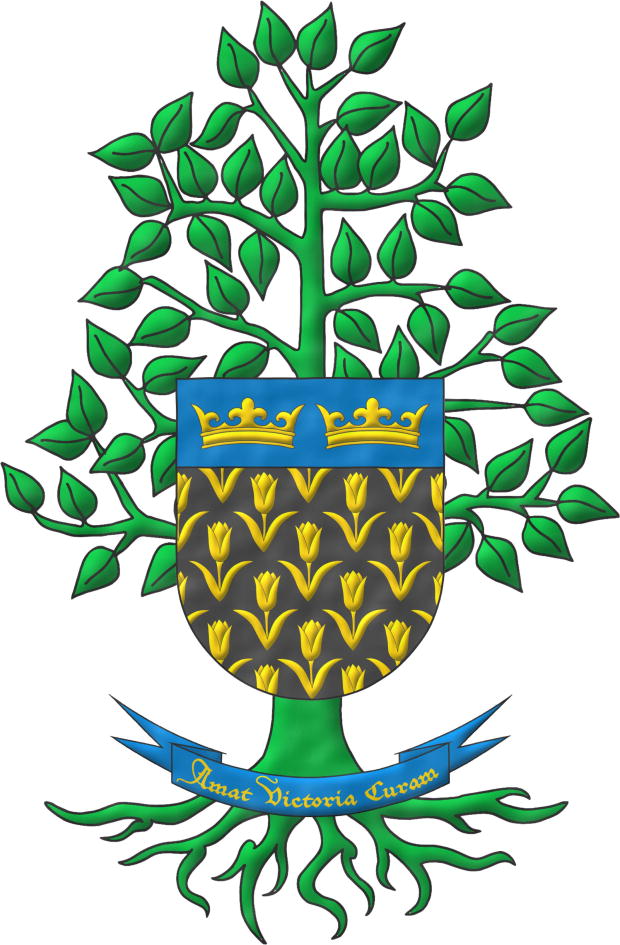 Sable, semé of Tulips Or; on a chief cousu Azure, two Crowns Or, in fess. Supporter A Tree Vert, eradicated. Motto «Amat victoria curam».
Escudo de sable, sembrado de tulipanes de oro; el jefe cosido de azur, dos coronas de oro, en faja. Por sostén un árbol de sinople, arrancado. Lema «Amat victoria curam» de oro, sobre una filacteria de azur.
The original design of this coat of arms, along with many others heraldic devices, is registered in [Salmerón Cabañas, A.; 2015a; page 11].
---
Blazon keywords: Without divisions, Sable, Or, Azure, Chief, Two, Crown, In fess, Semé, Tulip, Crest, Vert, Tree, Eradicated, Supporter (thing), Motto (motivation) and Scroll.
Style keywords: Watercolor, Semi-circular, Illuminated, Outlined in the field tincture, Outlined in sable and Cousu.
Classification: Coat of arms, Created and Personal.
Bearer: Quesada Valles, Bartolomé.