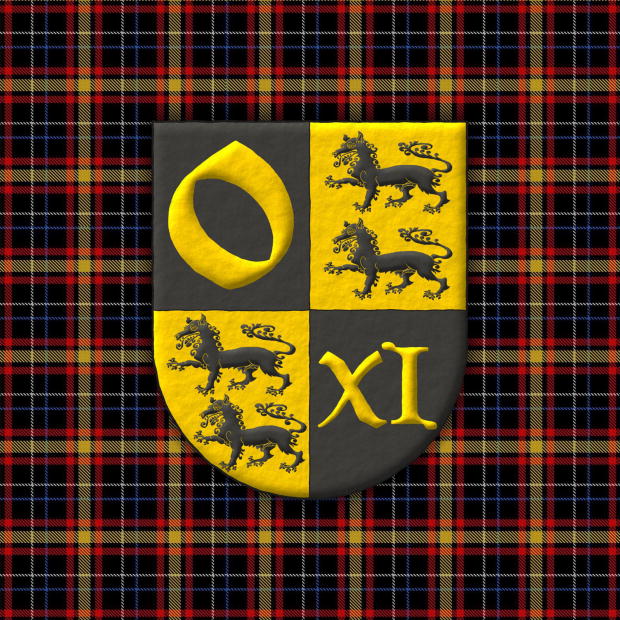 Dyes
This tartan has more black and yellow because these are the color Sable-black and metal Or-yellow of my coat of arms. Also, it has the other two colors Gules-red and Azure-blue, and one metal Argent-grey of my crest.
Structure
Over the black background, its main visual structure is a thin red line, a thick yellow line, and a thin red line because of the flag of Spain.
It is mostly symmetrical tartan because I am a heraldic artist and I love the symmetry and geometry. But there is a bit of asymmetry, two thin lines grey and blue, to break the uniformity.
Thread count
It is based in the 5 first terms (1, 2, 3, 5, 8) of the Fibonacci sequence (1, 1, 2, 3, 5, 8, 13, 21, 34...). This sequence is intimately connected with the golden ratio, 1.61803... that I use frequently in my designs. But for the thread count, I multiple the Fibonacci sequence by 6 to obtain more than 5 inches, then I use the numbers 6=(1x6), 12=(2x6), 18=(3x6), 30=(5x6), and 48=(8x6).
---
Blazon keywords: Quarterly, Or, Sable, One, Letter, Two, Wolf, Passant, In pale and Number.
Style keywords: Semi-circular, Illuminated, Outlined in the field tincture and Freehand.
Classification: Tartan, Created and Personal.
Bearer: Salmerón Cabañas, Antonio.