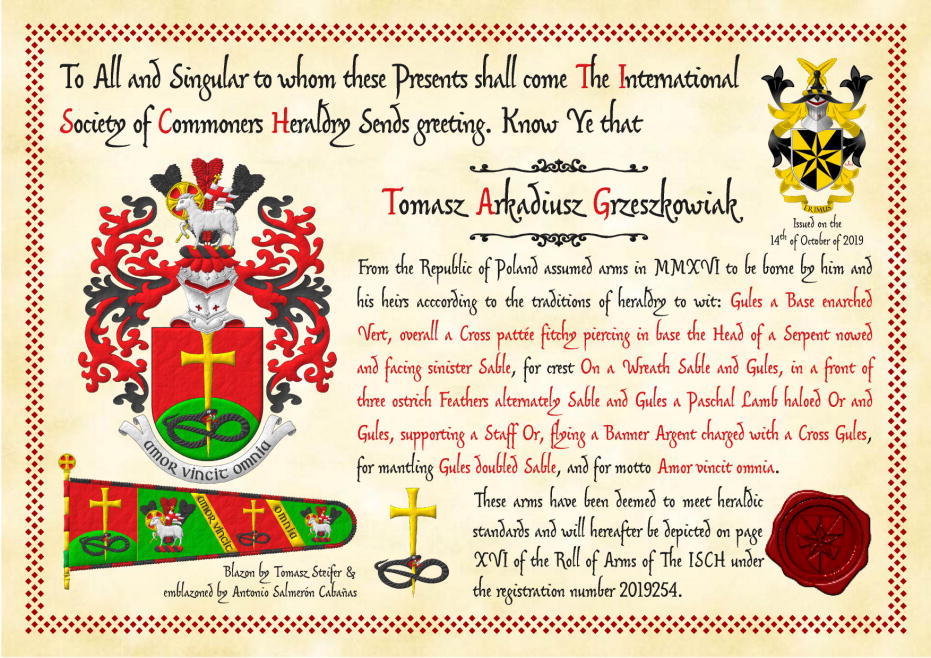 The Commoners' Certification of Arms for Tomasz Arkadiusz Grzeszkowiak, arms designed by Tomasz Steifer and emblazoned by me.
Gules, a base enarched Vert, overall a cross patty fitchy Or, piercing in base the head of a serpent nowed and facing sinister Sable, langued Gules. Crest: Upon a helm affronty, with a wreath Sable and Gules, in a front of three ostrich feathers alternately Sable and Gules a paschal lamb Argent, haloed Or and Gules, supporting a staff Or, flying a banner Argent charged with a cross Gules. Mantling: Gules doubled Sable. Motto: «Amor vincit omnia»
In the blazon of this certification, I wrote the expression «a Base enarched Vert», it is correct. But the expression «a Mount Vert» it is also possible. In the original expression in the Polish blazon is «na zielonym wzgórkuon» ~ «the green hill».
---
Blazon keywords: Without divisions, Gules, One, Mount, Vert, Issuant from base and, Overall, Cross patty fitchy, Cross couped, Piercing, Head, Serpent, Nowed, Facing sinister, Sable, Langued, Helm, Affronty, Two, Mantling, Doubled, Wreath, Three, Quill, Alternately, Debruised, Paschal lamb, Argent, Nimbed, Or, Grasping, Shafted, Charged, Cross and Motto (motivation).
Classification: Interpreted, Personal, Certification and Flag.
Bearer: Grzeszkowiak, Tomasz Arkadiusz.