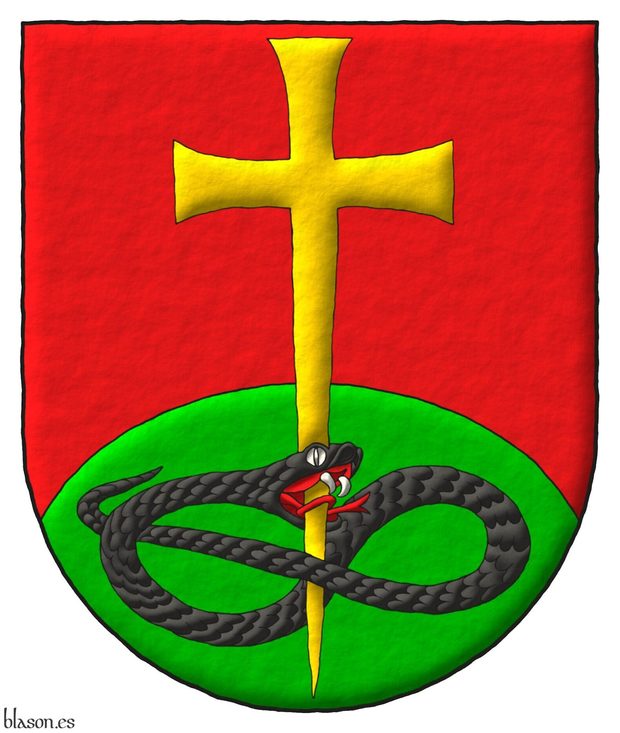 Gules, a Mount Vert, overall a Cross patty fitchy piercing in base the Head of a Serpent nowed and facing sinister Sable.
I have interpreted this coat of arms with a semi-circular shape; tintures or, sable, vert and gules; outlined with sable; and a freehand finish.
In Polish heraldic tradition the color Sable can be over other colors, the color Vert in this case. The following bibliographical references can be consulted about the Polish use of the color Sable over other colors:
[Bakala, K.; 2010; page 17] has written «

nie pozwala nakladania metalu na metal, a barwy na barwe, za wyjatkiem barwy czarnej i purpurowej

» ~ «

does not allow to put metal on metal and color on color, except the color Sable and Purpure

», notice that Sable and Purpure are the neutral colors whilst Gules, Azure and Vert are energetic colors.
[Marecki, J.; 2012; page 67] has written about the rule of colors and metals «

wyjatkiem byla czern, która laczono zarówno z metalami, jak i z innymi barwami

» ~ «

the exception was black, which was combined with both metals and other colors

».
---
Blazon keywords: Without divisions, Gules, Mount, Vert, Overall, One, Cross patty fitchy, Cross couped, piercing, Head, Serpent, Nowed, Facing sinister and Sable.
Style keywords: Semi-circular, Freehand and Outlined in sable.
Classification: Interpreted, Personal and Coat of arms.
Bearer: Grzeszkowiak, Tomasz Arkadiusz.