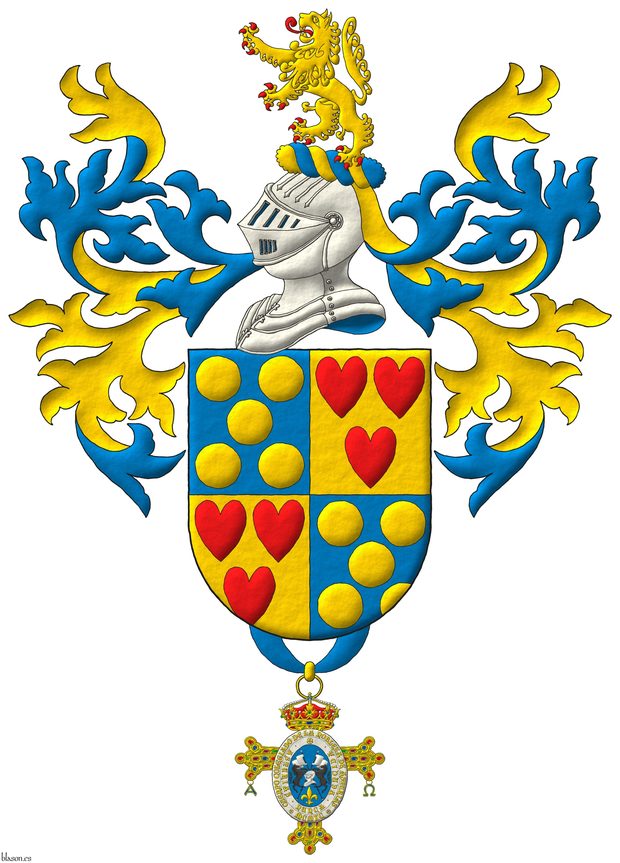 Escudo cuartelado: 1o y 4o de azur, cinco bezantes de oro en sotuer; 2o y 3o de oro, tres corazones de gules ordenados. Timbrado de un yelmo de plata; lambrequines de azur doblados de oro; y burelete de oro y azur; cimado de un león rampante de oro, lampasado y armado de gules. Pendiente de la punta la insignia del Cuerpo de la Nobleza del Principado de Asturias.
---
Blazon keywords: Quarterly, Azure, Five, Bezant, Bezant and plate, In saltire, Or, Three, Heart, Gules, Ordered, Crest, Helm, Argent, Mantling, Wreath, Lion, Rampant, Langued, Armed, Suspended, Base and Decoration.
Style keywords: Freehand, Semi-circular, Illuminated and Outlined in sable.
Classification: Coat of arms, Interpreted and Personal.
Bearer: Fernández-Cortés y Fonseca, Javier.