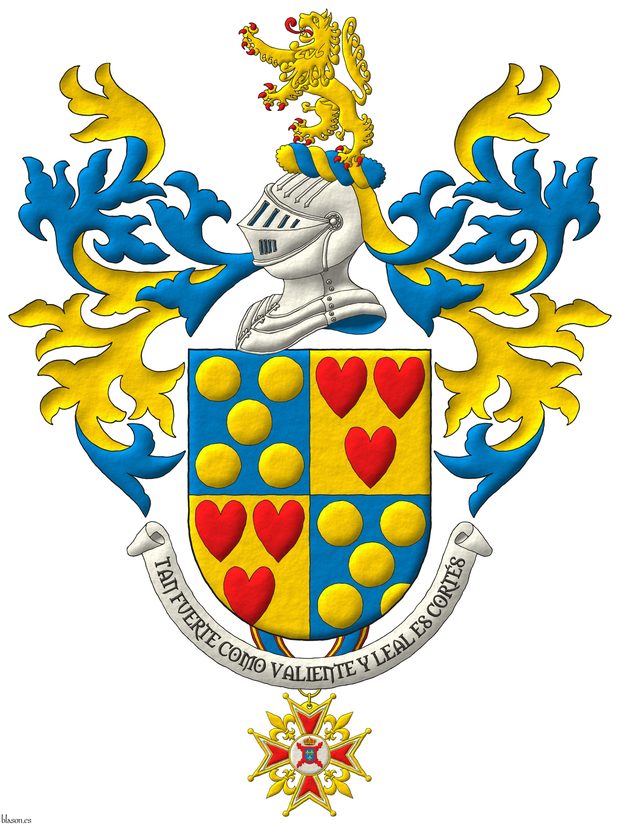 Quarterly: 1 and 4 Azure, five Bezants in saltire; 2 and 3 Or, three hearts Gules ordered. Crest: Upon a Helm Argent with a Wreath Or and Azure a Lion rampant Or, langued and armed Gules. Mantling: Azure doubled Or. Suspended from the base the badge of commander of the Hermandad Nacional Monárquica de España. Lema: «Tan fuerte como valiente y leal es Cortés».
---
Blazon keywords: Quarterly, Azure, Five, Bezant, Bezant and plate, In saltire, Or, Three, Heart, Gules, Ordered, Crest, Helm, Argent, Mantling, Wreath, Lion, Rampant, Langued, Armed, Suspended, Base, Decoration and Motto (motivation).
Style keywords: Freehand, Semi-circular, Illuminated and Outlined in sable.
Classification: Coat of arms, Interpreted and Personal.
Bearer: Fernández-Cortés y Fonseca, Javier.