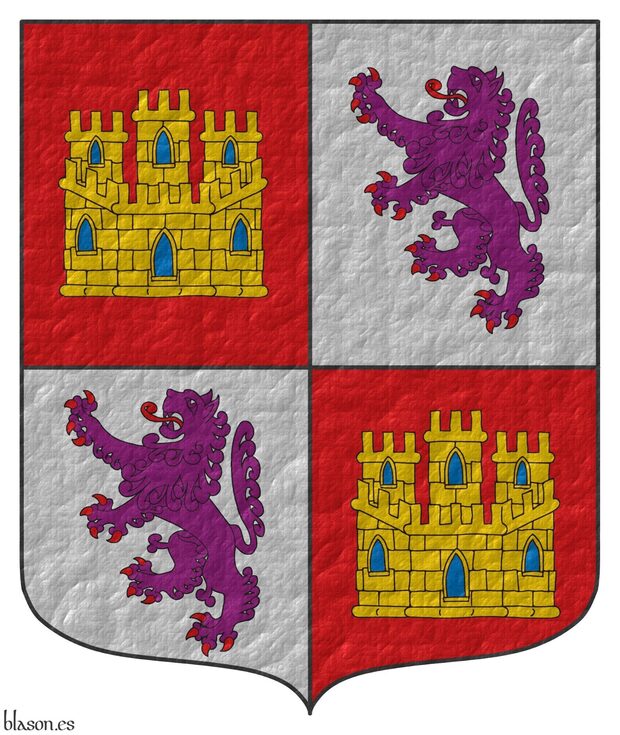 Known as the Wise, King of Castile and Leon from 1252 to 1284.
Escudo cuartelado: 1o y 4o de gules, un castillo de oro, aclarado de azur, mazonado de sable; 2o y 3o de plata, un león rampante de púrpura, armado y lampasado de gules.
Quarterly: 1 and 4 Gules, a castle triple towered Or, port and windows Azure, masoned Sable; 2 and 3 Argent, a lion rampant Purpure, armed and langued Gules.
Armories of the Wise King of Castile interpreted by me with the following characteristics: the external shape of the coat of arms ends in an ogee arch; the field, the 2 castles, and the 2 lions are outlined and enameled in flat colors; and the texture seems fabric.
This coat of arms, but with a pointed external shape, can be seen in the 2nd part of the so-called armorial [Wijnbergen; 1265; cuat of arms number 1,289], with the title «Le roy Despaingne», which in this context is understood to refer to Castilla y León.
The 2nd part of this armorial was made between 1270 and 1285 and, being Alphonse X king of Castile and Leon from 1252 to 1284, it is to Him that the title «Le roy Despaingne» seems to refer.
---
Blazon keywords: Quarterly, Gules, Or, Azure, Sable, One, Castle, Port and windows, Masoned, Argent, Purpure, Lion, Rampant, Armed and Langued.
Style keywords: Pointed and rounded, Plain tincture, Outlined in sable and Fabric.
Classification: Interpreted, Personal, Coat of arms and Kingdom of Castile and Leon.
Bearer: Alphonse X of Castile.