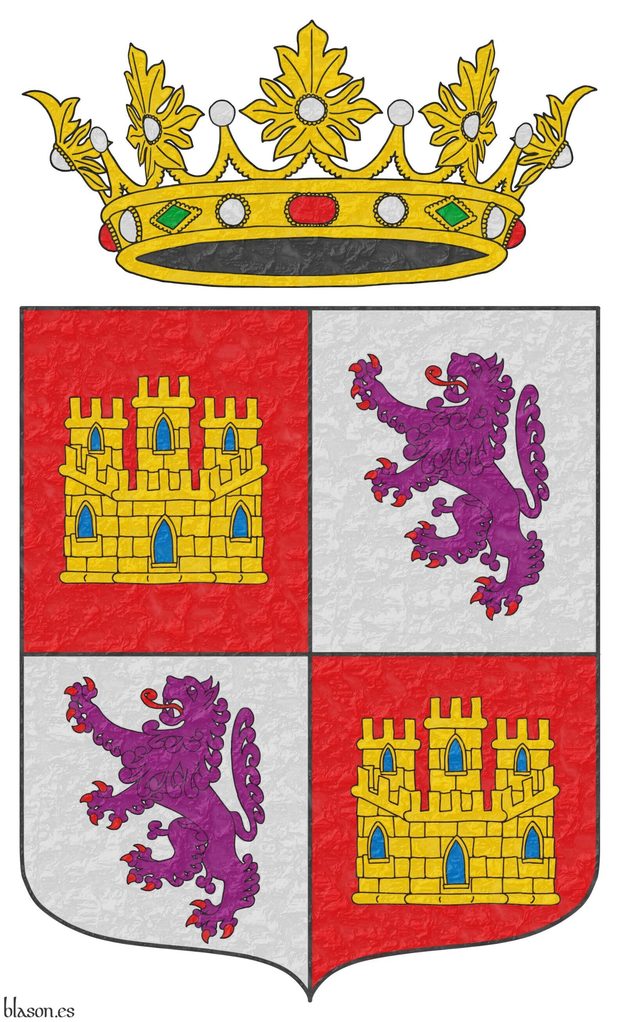 Escudo cuartelado: 1o y 4o de gules, un castillo de oro, aclarado de azur, mazonado de sable; 2o y 3o de plata, un león rampante de púrpura, armado y lampasado de gules. Timbrado de una corona real abierta.
Quarterly: 1 and 4 Gules, a castle triple towered Or, port and windows Azure, masoned Sable; 2 and 3 Argent, a lion rampant Purpure, armed and langued Gules. Crest: An open royal crown Or.
I emblazoned the coat of arms of the King with an external shape ending in an ogee arch, the field, castles, lions, and crown are outlined; and all have a crystal clear finishing.
---
Blazon keywords: Quarterly, Gules, Or, Azure, Sable, One, Castle, Port and windows, Masoned, Argent, Purpure, Lion, Rampant, Armed, Langued, Crest, Crown and Open royal crown.
Style keywords: Pointed and rounded, Plain tincture, Outlined in sable and Marmoreal.
Classification: Interpreted, Personal, Coat of arms and Kingdom of Castile and Leon.
Bearer: Alphonse X of Castile.