William Cecil Wade, «The symbolisms of heraldry or A treatise on the meanings and derivations of armorial bearings», 186 pages, 95 black and white pictures, Robert Holmes Collection, published by George Redway, London, 1898.
---
Although Romanticism sought the symbolism of the heraldic elements, I believe that the meaning of the elements of the coat of arms, if they have it, is provided by its creator or first bearer. In any case, the content of this symbolic book is the following: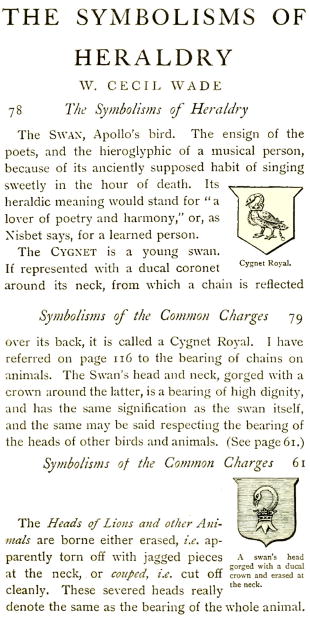 The origin of armorial bearings; page 11.
The symbolic side of heraldry; page 13.
Heraldic colors and metals; page 35.
The furs of heraldry; page 38.
The meaning of heraldic lines; page 40.
The symbolisms of the ordinaries; page 43.
The division lines of the shield; page 55.
The colors of the common charges not symbolical, chapter with 2 paragraphs only; page 57.
Symbolisms of the common charges; page 59.
Crowns, mitres, episcopal hats, etc.; page 138.
Examples of symbolisms of colors and armorial bearings; page 149.
Cadency and differencing; page 154.
Alphabetic index; page 162.
---
Bibliographical reference of century XIX.
Classification: Symbolism, In black and white and English language.
Author: Wade, William Cecil.
The following article cites this bibliographic reference:
External resource:
Internal resources: WadeWC1898.SymbolismsHeraldry.pdf.